SMILE IS A GIFT WEAR IT
It is a commonly accepted fact that a smile is a natural and priceless gift to mankind. A smile can produce miracles and wonders. Since animals cannot smile, the smile is a unique gift that we as human beings have inherited. Human beings are favored creatures because we are born in a human world, on a specially formed planet in the center of the universe.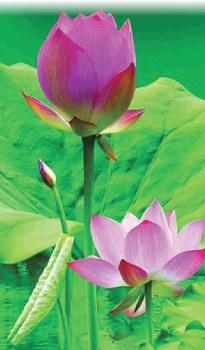 Although human beings and animals are both sentient creatures there are still obvious differences between them. It is said that human beings possess a superior intelligence that guides and motivates their activities, hence humans are deemed civilized beings who can live with others in a friendly and peaceful way. But, despite this fact, they still are afflicted by hatred, anger, jealousy, revenge, etc, which we label negative emotions, These negative emotions when unchecked, lead to suffering and violence, while conversely, our positive emotions, when encouraged, lead to happiness and peace. Whether emotions are positive or negative they all arise as impulses and if these negative impulses are not guarded properly, they can be dangerous.
Our negative emotions are created by no other than ourselves, arising from our negligence is not applying basic principles to our social life. Our attitudes towards others must always be friendly and not aggressive by any means possible.
There was an American writer named Dale Carnegie whose 'How to win friends and influence People', published in 1937, spoke about the importance of a smile, both in social and professional fields. It was practical advice that millions of people across the globe benefited from. Demand for a smile was so high that materialistically affluent society felt that it was the real remedy for their social illnesses, therefore a smile became the trend of the day. His book was an overnight sensation and became an all-time international bestseller.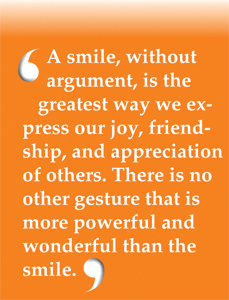 Once, when the Buddha was on alms rounds (Pindapata) in a remote village, a poor villager happened to come across Him. The villager knelt before the Buddha and said that he was ashamed of himself for being so poor that he had nothing to offer to Him. In reply, the Buddha told the villager that he was not poor, that he had a mouth and could make an offering of a smile to him.
When we wear a smile, we generate joy and happiness in the minds of others. therefore our smile becomes an offering and act of generosity. The Buddha said that a smile is a meaningful gift that can be offered without any cost to oneself. Conversely, the absence of a smile in daily life brings unhappiness, stress, and suffering, creating difficulties for all.
The main cause of family problems is the absence of the simple gift of a smile. If we wear and share a smile with everyone, under any circumstance, we will always be free from pain, grief, and stress. We will be loved by everyone. If we are pleasant to each and every person we come across, we will be free from enemies.
A smile, without argument, is the greatest way we express our joy, friendship, and appreciation of others. There is no other gesture that is more powerful and wonderful than the smile.
"A simple smile, that is the start of opening your heart and being compassionate to others"
- The 14th Dalai Lama
"Because of your smile, you make your life more beautiful" - Zen Master Thich Nhat Hanh
If you are without a smile you are either dysfunctional or senseless. To be healthy and more attractive always wear a smile. It is the proper way to always be free from troubles both internally and externally.