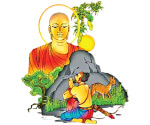 Poson Message
Poson poya day is the most significant day for Sri Lankan Buddhists. Arahath Maha Mahinda Thero came to Sri Lanka on a Poson poya day , with the supreme message of the Buddha including, the four noble truth and the profound teachings. King Devanampiyathissa the ruler of Sri Lanka , at that time met this noble seven-member group headed by Arahath Maha Mahinda Thero at Mihinthala Cliff in Anuradhapura for the first time. With the respectful invitation of the King ,this noble group was willing to spread the message of Dhamma .
In this first meeting, after introducing himself and his noble group, the Arahath Maha Mahinda Thero explained to the King , the purpose of their journey to this island. For the benevolence of the Sri Lankans, Arahath Maha Mahinda Thero settled down in this country with the intension of conveying the profound teachings of the Buddha. With immense respect to the Buddha, Dhamma, and Sanga, the King and the people offered the Mahamewuna Park to the Buddha Sasana and built the first Monastery which became the Center of Buddhist propagation.
King Devanampiyathissa, Queen Anula, the ministers and the public sought refuge in the Noble Triple Gem. Arahath Maha Mahinda Thero preached the "Chulla Haththipadopama Sutta" to the devotees . Then the King inquired as to how the Buddha Sasana was to be established in Sri Lanka . Arahath Maha Mahinda Thero then explained that someone born in Sri Lanka should get ordained and disciplined in Dhamma for the proper establishment of the Buddha Sasana in the country.
Minister Arittha and fifty five followers consented to be ordained and that was the inception of a proper Buddha Sasana in Sri Lanka.
Not only the establishment of the Buddha Sasana, but also the positive change to the entire socio-economic culture of Sri Lanka was the most significant result of the arrival of Arahath Maha Mahinda Thero. The Economy, Art, Agriculture, Languages, Irrigation Systems etc. , were developed in Sri Lanka by the guidance of the new traditions and by the diversly skilled individuals and artisans who came to the county later.
Sri Lankans became spiritually well cultured and prosperous as a result of the Dhamma and the Buddhist principals introduced by Arahath Maha Mahinda Thero and his followers.
Arahath Maha Mahinda Thero is thus respected by the Sri Lankans and would only be considered second to the Buddha.
May all of you be well and happy by the blessings of the Buddha, Dhamma and Sangha on this Poson poya day!